Welcome
Hail and welcome to the Homepage of Horizons Crafting Calculator.
HCC is a Windows Application for the Fantasy MMORPG game
Horizons
a.k.a. Istaria which allows it's Players to browse through the huge ingame item/formula, technique and components database, create orders as well as manage a crafter profile. HCC is the choice of several hundred players and is actively developed (with a few breaks) since over 16 years.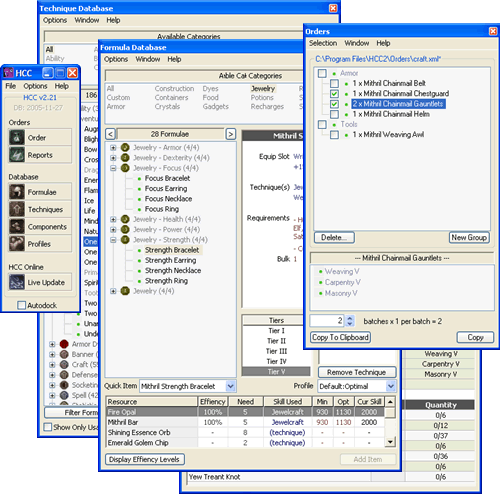 Version 2 of this utility is much improved upon, with lots of new features.
Up-to-date. Formula and Technique databases are derived from in-game logs, to ensure the information mirrors the game as closely as possible.
Complete Client rewrite. The HCC application is now much faster, with a smaller footprint. Download is 2mb, main application 450kb only.
Flexible. The vast majority of the interface can be resized and hidden, to suit whatever system/screen used.
Live Update. HCC now has the ability to request the latest version of it's database on-demand from the internet.
Search. Find the perfect gear for your Adventure/Craft School, lookup Formulae that may hold a specific technique.
Ingame Support. Publish Orders ingame via Clipboard and organize your Trophies during hunts (windowed only)
New Features. Includes many frequently requested ideas not included with the original version (except dancing dwarves).
Go get it!
Download latest version